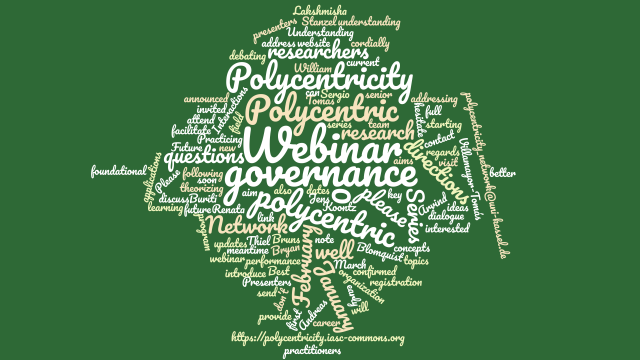 You are cordially invited to attend the first Polycentricity Network Webinar Series starting in January 2021.
This Polycentricity Webinar Series aims to introduce and discuss key concepts in the field of polycentric governance, as well as to address current applications and future research directions. In this series, we aim to facilitate the dialogue between early career researchers, senior researchers, and practitioners who are interested in learning, better understanding, and debating foundational and new ideas in polycentric governance.
We will soon provide the full webinar program as well as a registration link through which you can also send questions addressing the presenters and the announced topics. Please note the following dates:
21 January 2021: Understanding and theorizing polycentric governance
Presenting: William Blomquist & Andreas Thiel
04 February 2021: Interactions and performance in polycentric governance
Presenting: Tomas M. Koontz & Sergio Villamayor-Tomás
18 February 2021: Practicing polycentric governance
Presenting: Bryan Bruns
04 March 2021: Future research directions in polycentric governance
Presenters to be confirmed.
Please visit the Webinar Series section for updates on the series. If there are any questions, please don't hesitate to contact us at polycentricity_network@uni-kassel.de.
Best regards,
The organization team (Renata Buriti & Arvind Lakshmisha & Jens Stanzel)