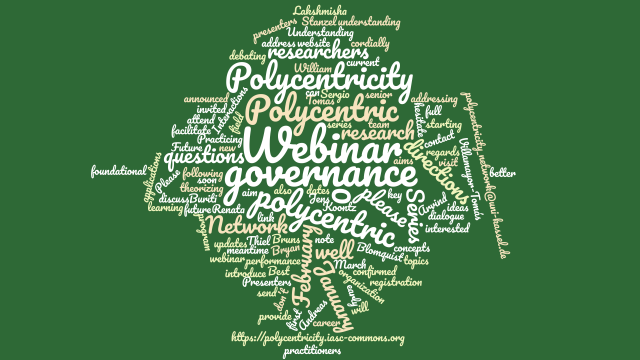 Dear Polycentricity Network Members,
We are thankful for your support and active participation in our webinars and on the website during the year 2021. We look forward to an exciting 2022, with your continued participation in our webinar series on Polycentric Governance (PG).
As we have seen through the 12 sessions this past year, research on PG has extended over many areas of research. For the upcoming year, we would like to dive a little deeper and explore the application of PG concepts in specific research fields. To do so, we will start with the format of a miniseries, where we will discuss different aspects of a chosen topic more in depth. While we, the organizers of the webinars at the University of Kassel, have already shortlisted a few potential topics of interest, we would be happy to also receive your suggestions on topics and collaborate with you on your topic of interest.
Miniseries on PG and Infrastructures
For a start, we will discuss the application of PG in research on infrastructures such as human-made physical structures, social infrastructures, or natural infrastructures. In our session in November 2021, we discussed the application of concepts related to PG in the analysis of energy-infrastructure governance. We want to continue this discussion by further looking at approaches that connect PG and infrastructure research more broadly. Studies exploring the role of polycentricity in this field are only starting to emerge. For experienced and early-career scholars alike, several exciting research questions arise. Among others, they relate to the conceptualization of infrastructures as common-pool resources and public goods; the interdependencies between infrastructures and institutions; and possible linkages between PG research and other research strands that have hard infrastructures and technologies as their objects of study. Further details on this focus topic will follow soon.
Our webinar sessions are only brought to life thanks to the inputs of researchers from different fields and in different stages of their research careers. For this upcoming year, we hope to be able to continue our fruitful discussions on PG. If you would like to suggest topics or collaborate in the webinars, get in touch with us @ polycentricity_network@uni-kassel.de.
We wish you a safe and Happy New Year 2022!
Your webinar team from the Polycentricity Network
Andreas, Arvind, Jens, Renata, Rezaul, Verena