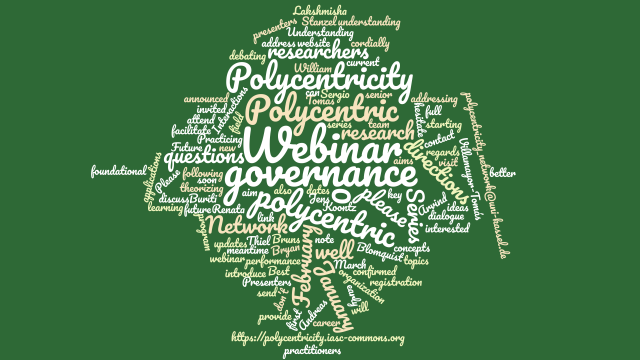 This Polycentric Network Webinar Series aims to introduce and discuss key concepts in the field of polycentric governance, as well as to address current applications and future research directions. As a starting poing for discussions, core ideas about polycentric governance will be presented based on the book "Governing Complexity: Analysing and Applying Polycentricity" (Eds.: Thiel, Andreas; Blomquist William A.; E. Garrick Dustin, 2019).
In this series, we aim to facilitate the dialogue between early career researchers, senior researchers, and practitioners who are interested in learning, better understanding, and debating foundational and new ideas in polycentric governance.
Please note the following topics and dates of the webinars:
Understanding and Theorizing Polycentric Governance
21 January 2021 at 5:00 – 6:00 pm CET (UTC+1:00)
Presenting: William Blomquist & Andreas Thiel
This first webinar will cover foundational concepts for understanding and theorizing polycentric governance. In the first presentation of the webinar, William Blomquist will explain how polycentric governance situations can be recognized, comprehended, and analyzed. This explanation includes identifying some key characteristics and observable features of polycentric governance.
Once we discussed defining features and relevant issues to address in research on Polycentric Governance, Andreas Thiel will address what he sees as core categories of factors that shape a particular constellation of polycentric governance, its performance, and change. Specifically, a framework to interrelate research relevant to Polycentric Governance is introduced to identify research gaps and craft future research. The deep roots in the Bloomington School of Political Economy but also the challenges to take its ideas to larger systems of collective action will become apparent.
William Blomquist
William Blomquist is Professor of Political Science and Adjunct Professor of Public and Environmental Affairs at Indiana University Purdue University Indianapolis (IUPUI), and a Senior Research Fellow of the IU Ostrom Workshop. His research interests concern governmental organization and public policy, with a specialization in the field of water institutions and water management. His publications include The Realities of Adaptive Groundwater Management (forthcoming 2021) and Dividing the Waters: Governing Groundwater in Southern California (1992). He is the co-editor, with Andreas Thiel and Dustin Garrick of Governing Complexity: Analyzing and Applying Polycentricity (2019), and Co-Chair of the Ostrom Workshop's Polycentricity Working Group.
Andreas Thiel
Andreas Thiel is Chair of International Agricultural Policy and Environmental Governance at the Faculty of Organic Agricultural Sciences, University of Kassel, Germany. He is affiliated faculty of the Vincent and Elinor Ostrom Workshop in Political Theory and Policy Analysis and recently, he was Senior Research Fellow of the Käte Hamburger Kolleg for Global Cooperation Research at University of Duisburg-Essen, Germany. His research addresses the analysis of the role of institutions in social ecological systems with particular emphasis on developing the lens of polycentric governance. Substantively, he works on water and agri-environmental governance and related public policy analysis in the EU, Northern and East Africa. Together with Bill Blomquist and Dustin Garrick he is co-editor of Governing Complexity: Analyzing and Applying Polycentricity (2019).
Interactions and Performance in Polycentric Governance
04 February 2021 at 5:00 – 6:00 pm CET (UTC+1:00)
Presenting: Tomas M. Koontz & Sergio Villamayor-Tomás
Presentation details to be announced.
Practicing Polycentric Governance
18 February 2021 at 5:00 – 6:00 pm CET (UTC+1:00)
Presenting: Bryan Bruns
Presentation details to be announced.
Future research directions in Polycentric Governance
04 March 2021 at 5:00 – 6:00 pm CET (UTC+1:00)
Presentation details and presenters to be confirmed.
We will soon provide the full webinar program as well as a registration link through which you can also send questions for the presenters. If there are any questions, please do not hesitate to contact us at polycentricity_network@uni-kassel.de.
The Editorial Team