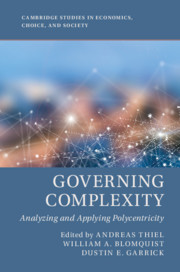 Dear all, after some years of work a group of authors is glad to present the following book to you. We hope you find it useful for your own work and your students:
Thiel, Andreas; Blomquist, William A; Garrick, Dustin E. (Eds.) (2019): Governing Complexity: Analysing and Applying Polycentricity. Cambridge: Cambridge University Press.
https://www.cambridge.org/core/books/governing-complexity/25F8891FABEB6B35A2D2008D71967823
Book description
There has been a rapid expansion of academic interest and publications on polycentricity. In the contemporary world, nearly all governance situations are polycentric, but people are not necessarily used to thinking this way. Governing Complexity provides an updated explanation of the concept of polycentric governance. The editors provide examples of it in contemporary settings involving complex natural resource systems, as well as a critical evaluation of the utility of the concept. With contributions from leading scholars in the field, this book makes the case that polycentric governance arrangements exist and it is possible for polycentric arrangements to perform well, persist for long periods, and adapt. Whether they actually function well, persist, or adapt depends on multiple factors that are reviewed and discussed, both theoretically and with examples from actual cases.
With contributions by Mark Stephan, Graham Marshall, Mike McGinnis, Nadine Schröder, Christine Moser, Raul Pacheco Vega, Elizabeth Baldwin, Tom Koontz, Sergio Villamayor-Tomas, Tanya Heikkila, Anas Malik, Edella Schlager, Vlad Tarko, Mark Lutter and Bryan Bruns (in order of appearence)