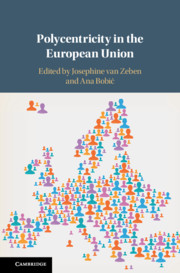 A new book titled "Polycentricity in the European Union" edited by Josephine van Zeben, University of Oxford and Ana Bobi?, Hertie School of Governance has been published by Cambridge University Press.
A brief description of the book as given by the editors:
Supranational governance is being challenged by politicians and citizens around the EU as over-centralized and undemocratic. This book is premised on the idea that polycentric governance, developed by Vincent and Elinor Ostrom, is a fruitful place to start for addressing this challenge. Assessing the presence of, and potential for, polycentric governance within the EU means approaching established principles and practices from a new perspective. While the debate on these issues is rich, longstanding and interdisciplinary, it has proven difficult to sidestep the 'renationalisation/federalisation' dichotomy. The aim of this volume is not to reject the EU's institutional structure but provide a different benchmark for the assessment of its functioning. Polycentric theory highlights the importance of multilevel horizontal relationships within the EU – between states, but also between many sub-state actors, all the way down to individuals. This helps us answer the question: how do we achieve self-governance in an interdependent world?
The book is available on https://www.cambridge.org/core/books/polycentricity-in-the-european-union/FB4A6B91E85C38254CF2C8A6F3839BD7.